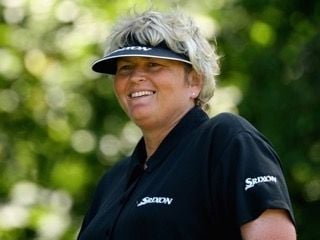 Have Dame Laura Davies Host Your Corporate Golf Day
THE WORLD GOLF HALL OF FAME MEMBER AND TWELVE TIME SOLHEIM CUP PLAYER
IS AVAILABLE TO HOST CORPORATE GOLF DAYS IN THE UK, EUROPE & WORLDWIDE
Corporate Golf Days (UK, Europe & Worldwide)
Dame Laura hosts your company golf day
Laura gives a clinic/exhibition for guests before or after play on the range and offers tuition if required
She plays 18 holes with a chosen group or several holes with different groups
Generally mixes with clients & guests during the day and presents the prizes after dinner
Renowned for her easy going and affable manner with people, Laura makes an ideal host for such occasions
You organise your golf day and we arrange for Laura's attendance as host (subject to date)
Please Contact Us for further information.
Corporate Pro Am Days (UK & Europe only)
Dame Laura hosts your company Pro Am day
She gives a clinic/exhibition before play and plays 18 holes with a chosen group
Generally mixes with clients & guests during the day and presents the prizes after dinner
You organise your Pro Am golf day and we arrange for Laura's attendance as host (subject to date)
We can also arrange for the attendance of other Ladies European Tour Pros needed for your day as required
An example of a typical Pro Am day would be 18 groups (in teams of four) with a shotgun start. Each group consisting of 1 Pro and 3 Ams, catering for the participation of 18 Pros and 54 company clients/guests.
However these numbers above can be tailored to suit your particular requirements as regards the other Pros needed
Please Contact Us for further information.
Laura is also available for the following -
Sponsorship Opportunities
Sponsor Laura and receive brand exposure on the world tours
Have Laura host your company golf day (s)
Have Laura as a company ambassador
Other Availability
Conference Speaking (Q&A format)
Openings
TV & Radio
TV Commentary (Golf Analyst)
Please Contact Us for further information.

Dame Laura Davies / Corporate Golf / Corporate Golf Days / Corporate Golf Events