Follow Laura on Twitter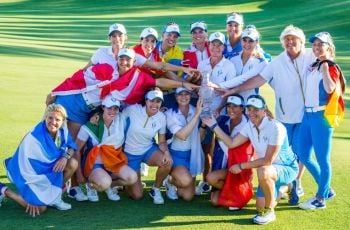 Europe wins again. The victorious Solheim Cup team under captain Catriona Matthew, who beat the USA on away soil in Toledo Ohio in 2021. Next challenge, back on home soil in Spain in 2023, under the leadership of Suzann Pettersen.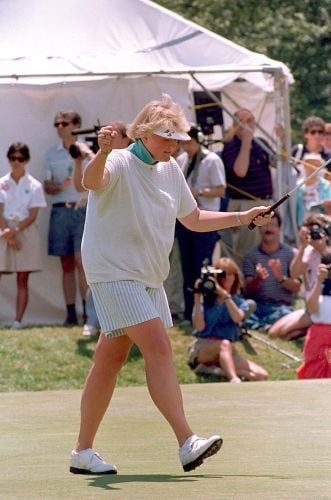 A flashback moment in time, holing a putt in the 18 hole play off to win the 1987 US Women's Open at Plainfield Country Club in New Jersey. I managed to beat the great JoAnne Carner and Ayako Okamoto. My brother was caddying and my late father Dave Davies was there to watch me win. To this day it's still probably the highlight of my playing career, along with all the Solheim Cup European team victories too.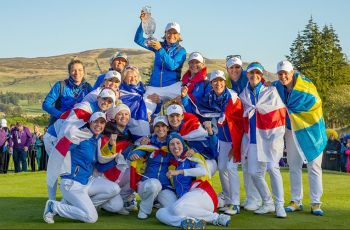 Europe wins the 2019 Solheim Cup at Gleneagles beating the USA 14.5 to 13.5. What a week and what a team performance! My first taste of vice captaincy under Catriona Matthew and it was a fantastic experience. As for Suzann Pettersen I never doubted her for one second, but you can not write that stuff. What a putt under the most extreme pressure probably possible, she knew she had to win that match. Well done Europe, well done Catriona, great job everyone.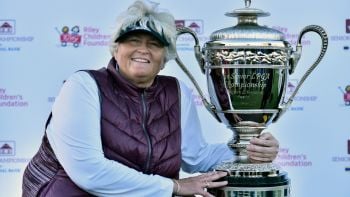 2018 was a good year for me, but especially on the senior women's Legends Tour, where I was lucky enough to win both majors, here above at the presentation ceremony for the Senior LPGA Championship. It sure is nice to raise those thophies again. It was a really great week and a great sponsor in Old National Bank, with a great venue too at Pete Dye's French Lick course in Indiana. They made us all so welcome.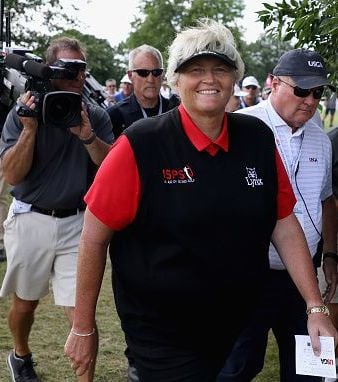 Walking the walk, I am just about to win the first ever US Senior Women's Open in 2018.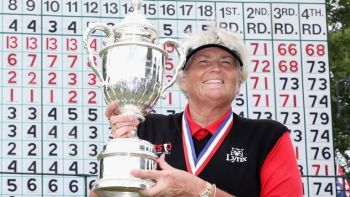 Winning the inaugural 2018 Women's US Senior Open at Chicago Golf Club by 10 shots ranks very highly as regards my achievements in golf. In shooting my 66 on Saturday I really can not remember hitting the ball as well, it was the ball striking round of my life. It was though a fantastic week for women's senior golf in general and the USGA did us very proud. Its at another fantastic venue in 2019 too, Pine Needles in North Carolina.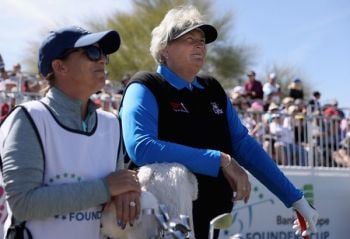 On the first tee on Sunday with my caddy of many years Tanya Paterson at the Bank Of Hope Founders Cup event on the LPGA Tour, I was pretty nervous to say the least at this moment, but I came quite close to a win with a T2 behind winner Inbee Park, who played amazing golf to go clear on the back 9, I did get within one of her though at one stage after 10 holes.
I am going to keep trying for those two more wins that I need to get in to the LPGA Hall Of Fame and really appreciate the wonderful support I got in Phoenix..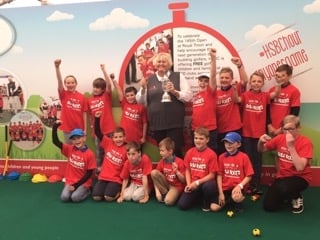 At the Men's British Open at Troon where I was awarded the the Golf Foundation's Spirit Of Golf Award, given to champions who truly inspire juniors into the game. Previous winners of the award among many others were Gary Player, Ernie Els and Tom Watson. It was a fun day and I got to meet some of the youngsters as you can see. The Golf Foundation do a great job.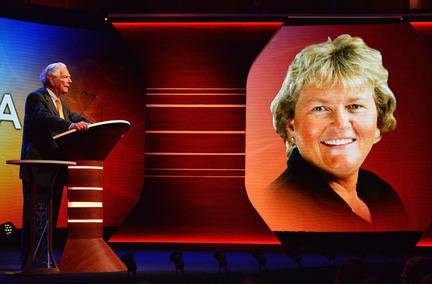 My great friend Charlie Mechem introducing me at the World Golf Hall Of Fame ceremony, where he made a really nice speech, with some very kind words which I very much appreciate. I met Charlie and got to know him really well when he was running the LPGA tour in the mid 1990's and he got on well too with my late father Dave Davies. Charlie did a great job for that tour in his time as its commissioner.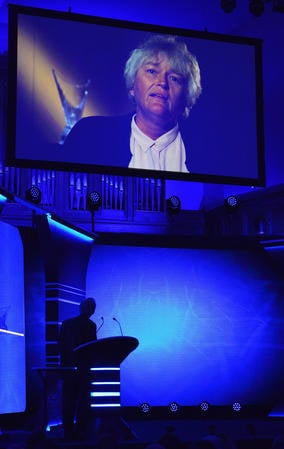 Making my acceptance speech on the big screen after being inducted into the World Golf Hall Of Fame at St Andrews in 2015. I missed the ceremony due to a flight being canceled back from America, playing in the US Women's Open. Still, I made the after party where I met everyone who attended and Charlie presented me with my trophy, which he had accepted for me earlier.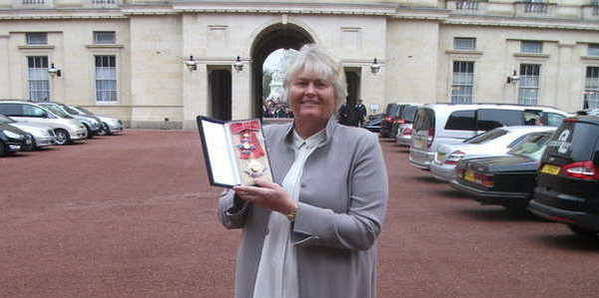 A very proud moment in 2014, in the grounds at Buckingham Palace just after being made a Dame by the Queen.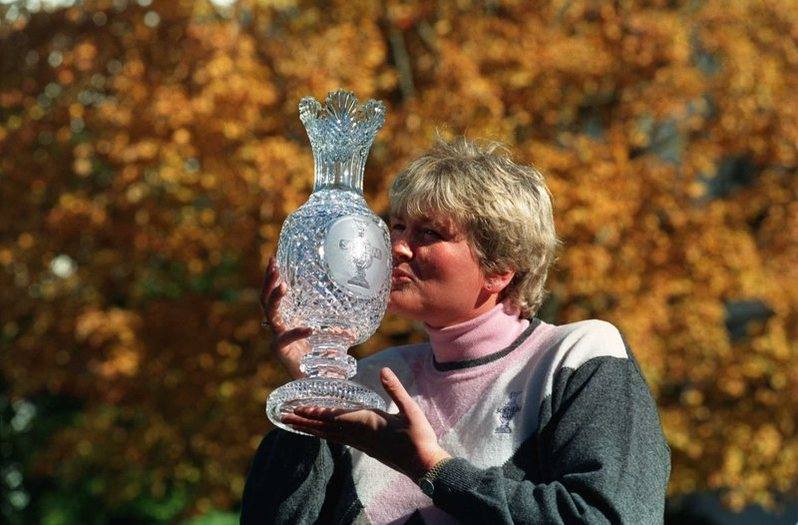 Kissing the Solheim Cup. Team glory again for Europe.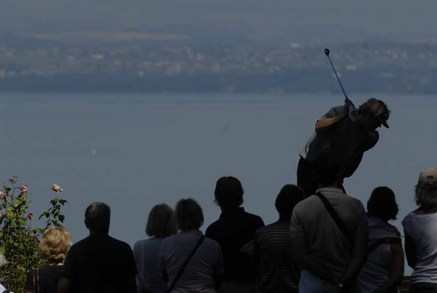 My caddy said I could make the carry but I wasn't so sure. Hitting a shot to a downhill par 3 at Evian and they say the camera never lies!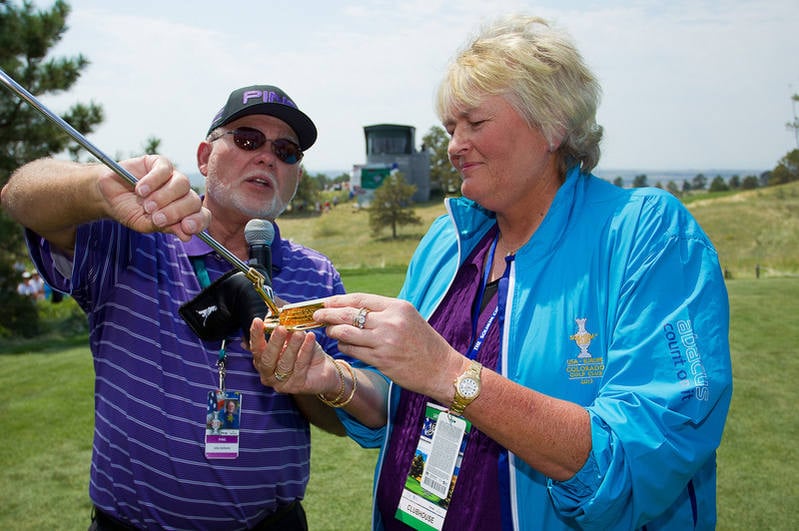 John Solheim presents me with a golden putter, in recognition of my 12 consecutive Solheim Cups.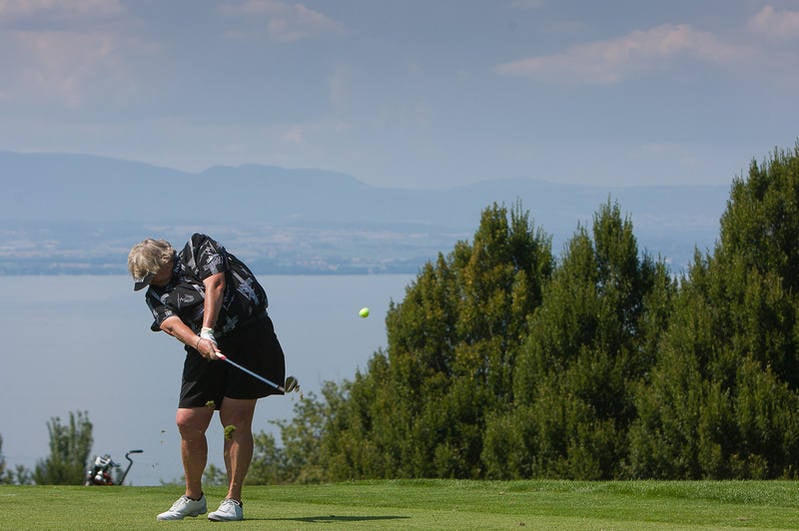 At the Evian Masters. A superb event, with stunning views too across the lake.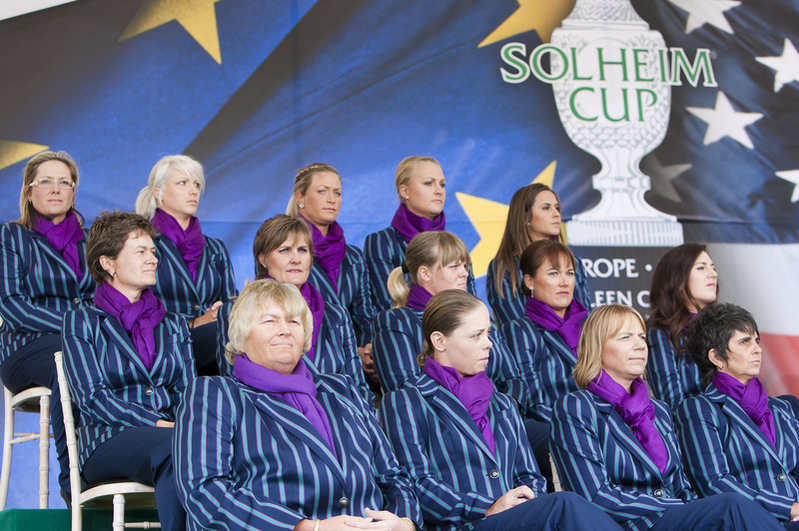 My most recent Solheim Cup appearance in Ireland in 2011.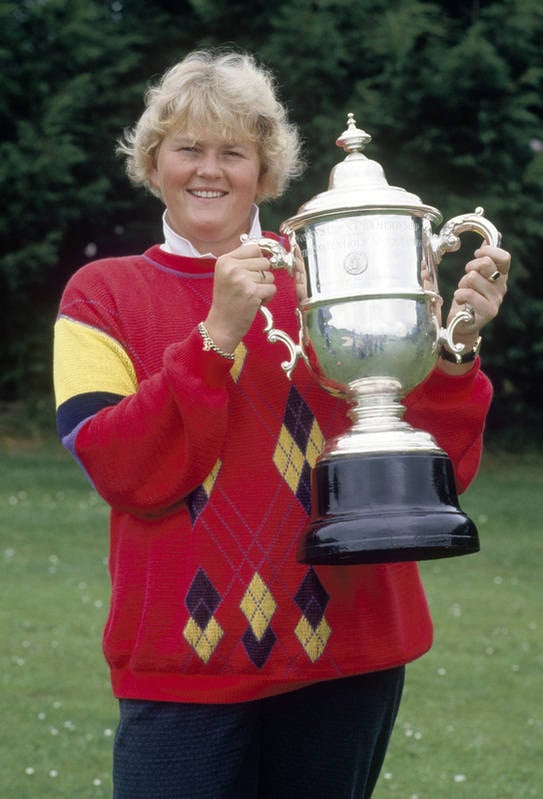 Probably my finest hour to date as US Open champion in 1987, if you take away Solheim Cup team wins but I have to say too, that winning my fourth Phoenix Open in a row on the LPGA Tour between 1994 and 1997, has to be right up there in the memorable moments of my career.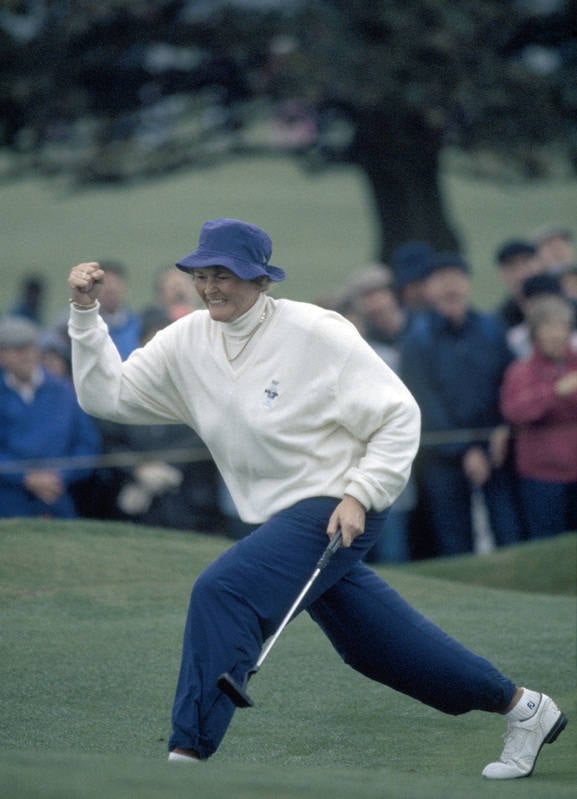 Take that USA, I hole a putt at the 1992 Solheim Cup which we won in Dalmahoy Scotland.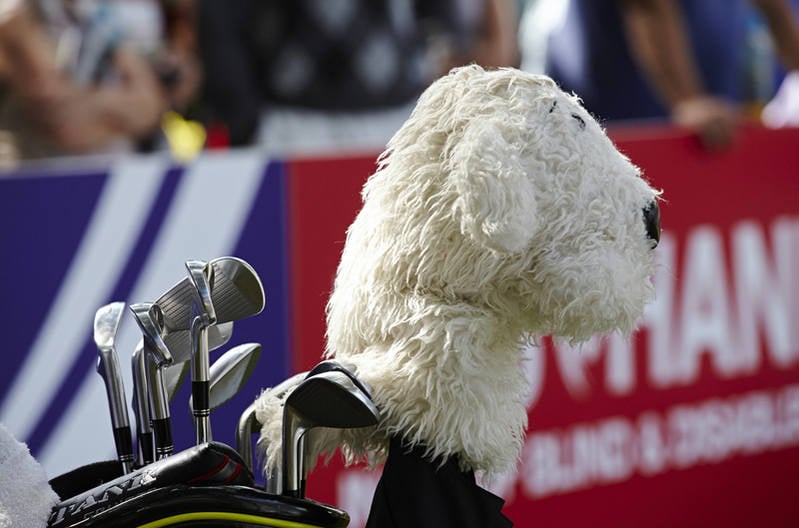 An old friend of mine, he watched every shot.

Dame Laura Davies uses the PHYSIOLAB S1 portable unit : "This product has helped me significantly with my recovery between events".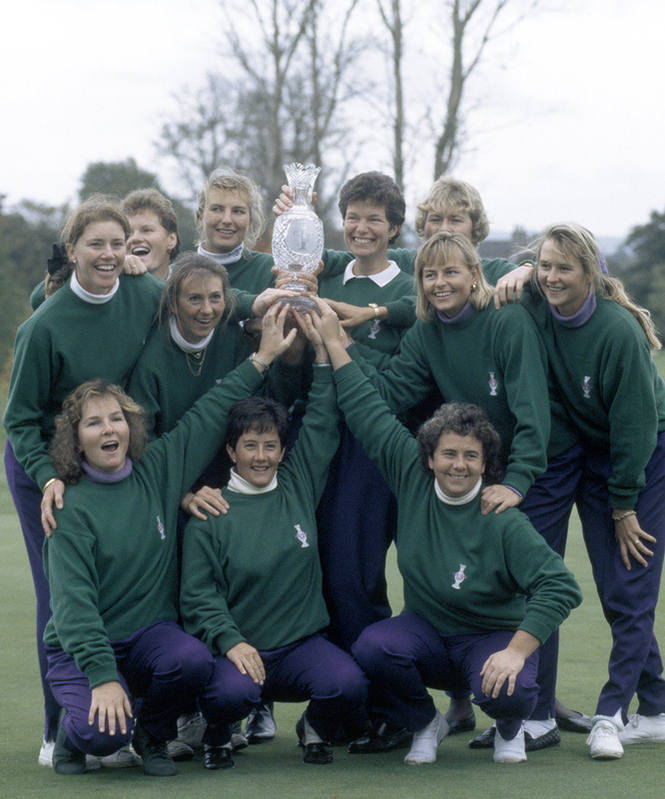 That 1992 team, a great day for ladies European golf.
Left to right - Trish Johnson, Katrin Nilsmark, Mickey Walker (Captain), Me, Helen Alfredsson, Katrina Douglas, Liselotte Neumann, Florence Descampe, Pam Wright, Alison Nicholas, Dale Reid. At the time the Americans were considered pretty much unbeatable but we did it against all the odds.
Team we beat - Pat Bradley, Beth Daniel, Juli Inkster, Betsy King, Meg Mallon, Dotty Pepper/Mochrie, Patty Sheehan, Brandie Burton, Danielle Ammaccapane, Deb Richard, Kathy Whitworth (Captain).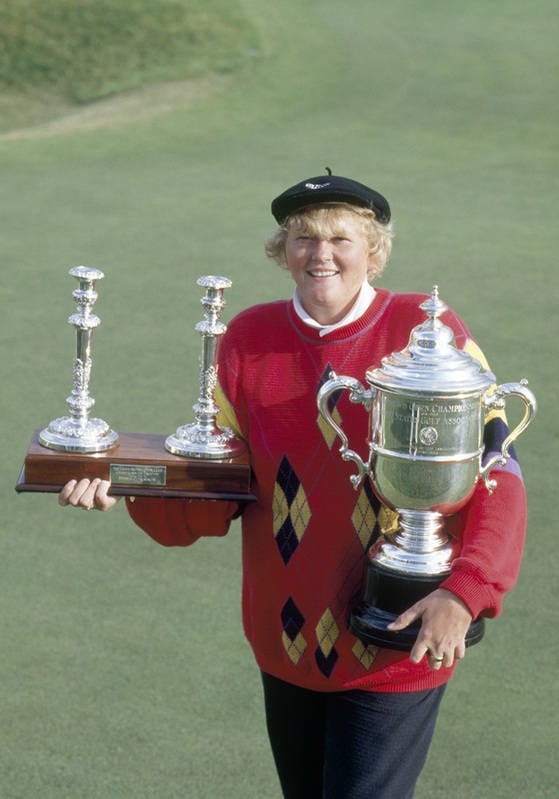 I held both the US Open and British Open trophies in 1987, literally too and they were heavy.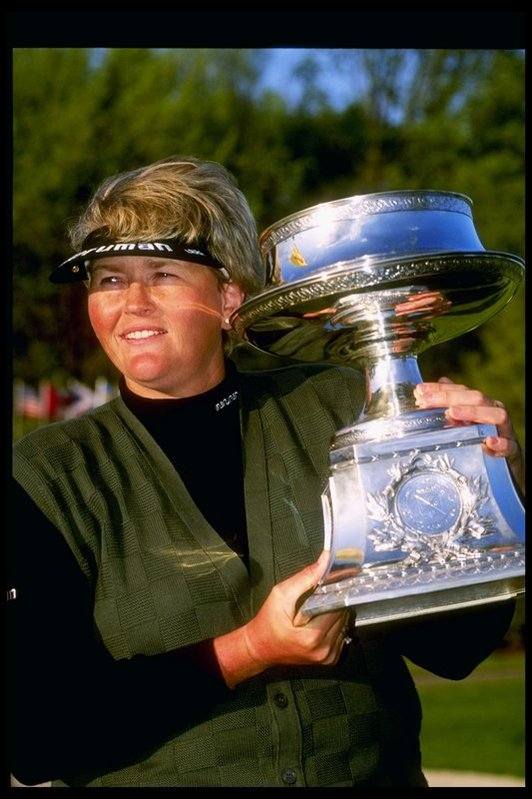 One of two LPGA Championship wins in 1994 and 1996.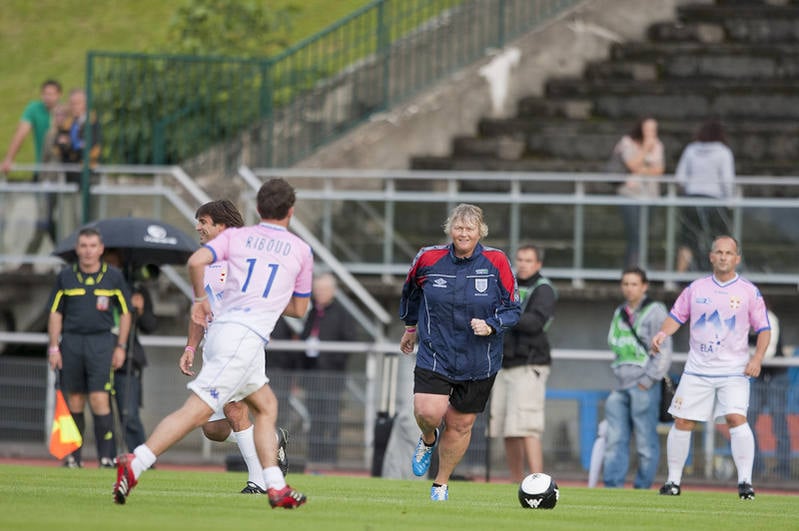 I can play a bit. At the Evian football match along side the stars.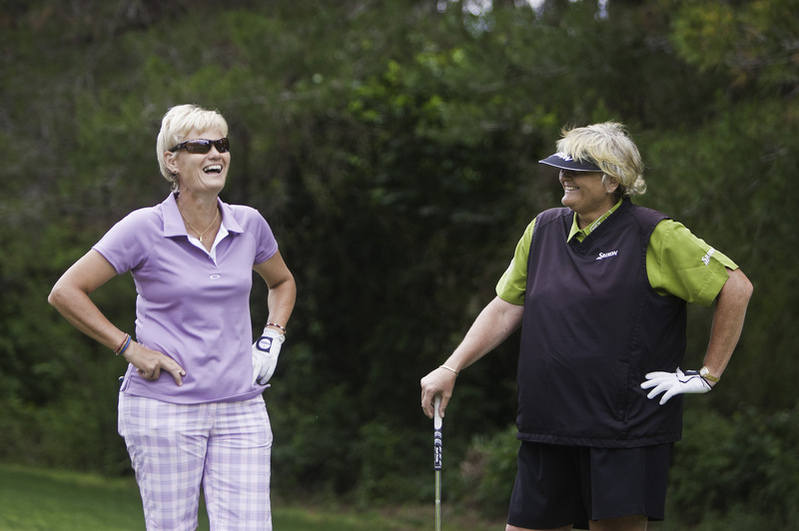 You have to laugh, with good friend Trish Johnson, we were European pioneers on the LPGA Tour in the late 80's.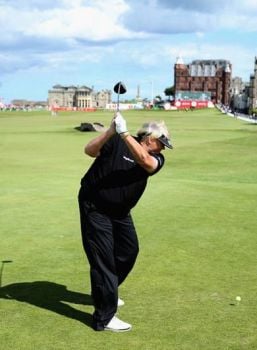 Teeing off at the home of golf on the famous 18th hole at St Andrews. My favorite course from all the hundreds I have played and I was made an honorary member in 2015, something I'm very honoured and pleased about. When you play it you can just feel the history.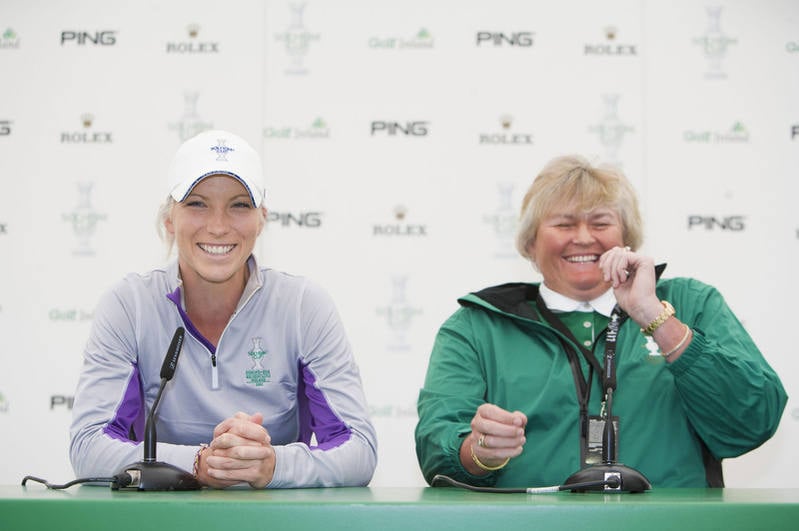 A lighter moment at a press conference alongside England's Mel Reid, not sure what she just said but it must have been pretty funny.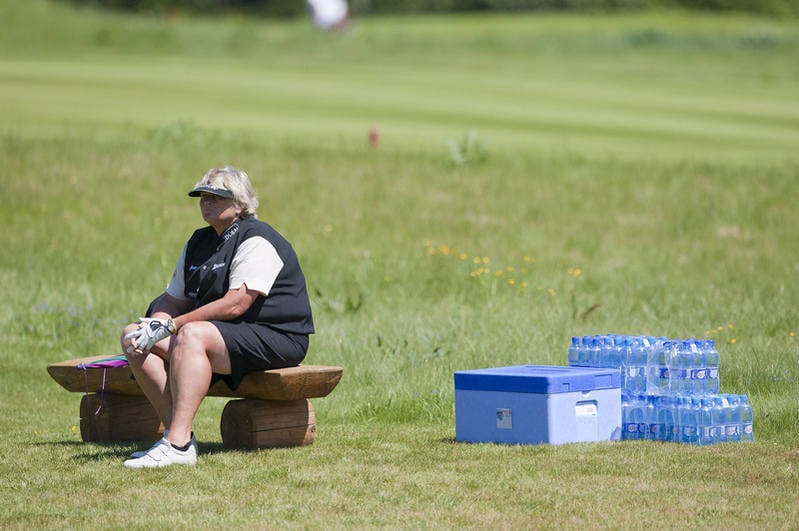 I'm not too keen on slow play, still I had plenty of water.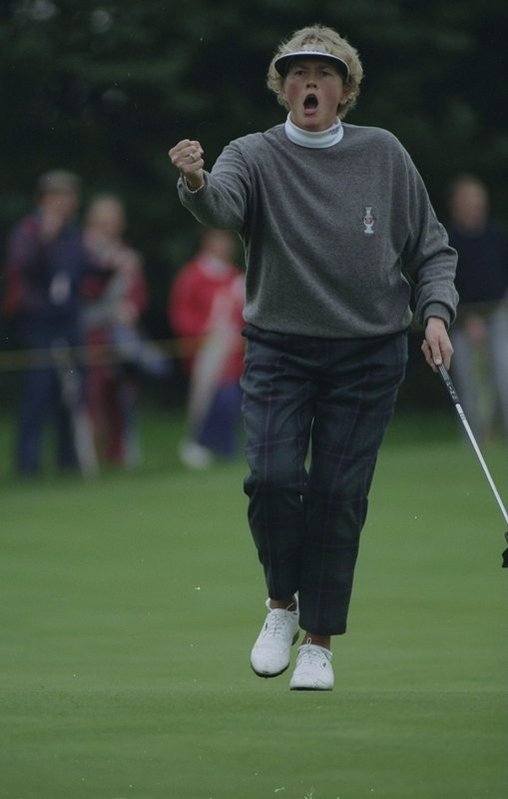 My favorite golf photo of myself. A Solheim Cup moment in time, holing a putt in 1992 at Dalmahoy in Scotland.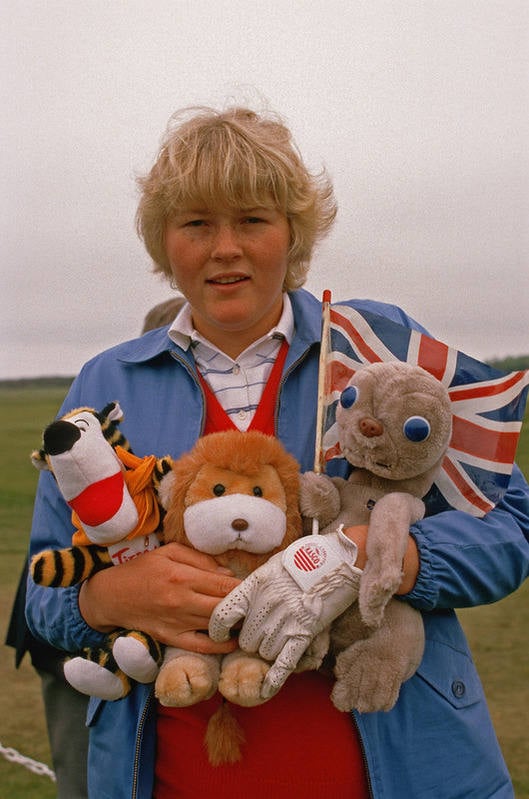 Long time ago, Curtis Cup days in 1984, check the oversized glove.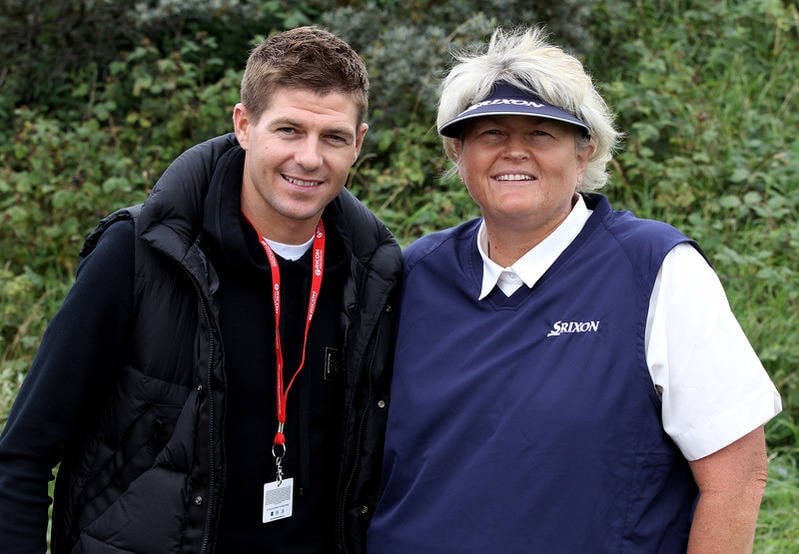 I got to meet one of my Liverpool and England football idols Steven Gerrard at Lytham and he watched me play 18 holes in that British Open.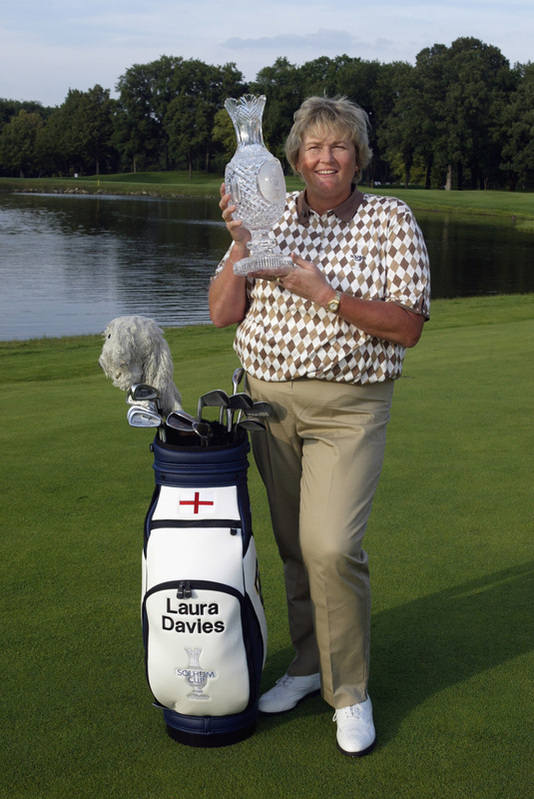 I love the Solheim Cup as you may have gathered.
Laura is now on Cameo & CelebVM - Book her for a personalised video message, birthdays & special occasions,
Laura Davies Gallery - Pictures Of Laura Davies - Photos Of Laura Davies - Images Of Laura Davies - Laura Davies Images