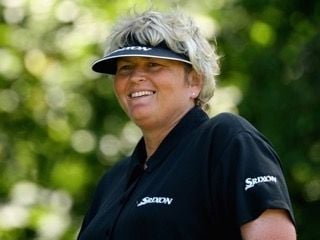 About Laura
Outside of golf Laura's interests include cooking for family and friends, fast cars, shopping and watching most sports on tv, especially football and she is a big Liverpool FC and England fan, going to games when ever she gets the chance. Laura has never made any secret of the fact that she enjoys a flutter too, especially on football.
Laura Jane Davies was born in Coventry England in October 1963, one of the coldest ever winters on record in UK history. Her family some years later then moved to Surrey in England, near London. Laura then spent a period of around three years living and going to school in Marietta Georgia USA, her parents having moved there in 1968 with her fathers job as an engineer for the Lockeed Aircraft Corporation.
Returning to the UK in 1971 following her parents divorce, the family settled once again in Surrey England and Laura still lives in Surrey to this day.
Laura hit her first ever golf shot at Corby municipal golf club in Northamptonshire in England at the age of around 10, playing with her father and elder brother of two years. As her brother remembers, her first ever shot was airborne, much to the amazement of dad and himself.
Later on she started playing on a more regular basis by tagging along with her brother and his friends and she soon learned that in order to keep up with them and have any chance of competing, she needed to hit the ball quite hard, a trait that was to become her hallmark. During the school holidays back then, Laura's mum would drop both her and her brother off at Sandown Golf centre in Surrey on her way to work and the pair would play the 9 hole par 3 course literally all day until 5pm, when mum would pick them up on her way home. They would compete hard and this went on for some years, with weekend golf on the menu too before the pair made the big step up on to the proper 9 hole course, at St Georges Hills in Surrey. Laura was by now beating her older brother (a single figure handicaper) on a regular basis.
Laura's brothers thoughts eventually turned to football but she was by now hooked on the game of golf and spells followed at both Guildford Golf Club in Surrey England and then West Byfleet Golf Club again in Surrey, where she was to meet the person she gives credit for influencing her career the most, club professional at West Byfleet David Regan, who only very recently retired in 2016. Dave instilled in Laura fundamentals that were to serve her well right throughout her career.
Many amateur events were to follow up and down the length and breadth of the UK in her first car, a light blue triumph herald, with her mother Rita and stepfather Mike making sacrifices in order to fund her attempts, culminating with her appearance at the Curtis Cup in Scotland in June 1984. Laura's father Dave had remained in the United States in Irmo South Carolina, which was to provide a nice base stateside as things were to pan out in the years to come and Laura played many a round with her dad and his friends at her fathers home course Coldstream Country Club in Irmo.
Laura turned Pro in 1985 winning the Belgium Open that was to launch a career on the LET Tour now spanning over 30 years.
She was to win the Ladies British Open at Royal Birkdale in 1986 and trips on to the LPGA Tour in America followed, resulting in her amazing victory in the US Womens Open in 1987 at Plainfield Country Club in New Jersey, with her brother caddying and father Dave, cousin Matthew and good friends Anne and Ken Reeves in the gallery watching it all unfold. She was to hold both titles at the same time, a feat no other player has been able to replicate as of yet. The Ladies British Open wasn't a major in those days but she was to add three further major championship wins to her US Open title, twice winning the LPGA Championship in 1994 and 1996 and also the Du Maurier Classic in Canada (a major then) in 1996.
Along came the Solheim Cup in the early 90's, which Laura a staunch patriot revelled in representing England and Europe and she was to play in 12 consecutive Solheim Cups. She tells a great story about the first ever Solheim Cup at Lake Nona in 1990, with her and her foursomes partner Alison Nicholas standing on the first tee in the first ever match having arrived before their opponents, the pair were discussing the fact that they were very nervous to say the least, when Laura piped up, " don't look behind you now then Ally cos here come Nancy Lopez and Pat Bradley", they did however go on to beat the formidable American pair 2 & 1 in that first ever match.
More recently as regards Solheim Cup Laura made her first appearance as a vice captain under Catriona Matthew at Gleneagles in 2019, in which team Europe triumphed in the most spectacular way 14.5 to 13.5 with Suzann Pettersen's famous winning putt. Catriona selected her as a vice captain again in 2021 in Toledo Ohio, which Europe won 15-13 this time on away soil. Most recently Laura has been selected once again, this time by Captain Suzann Pettersen, as a vice captain for the 2023 Solheim Cup in Spain.
In the mid 90's Laura got involved in her first golf course design project, helping architect David Walker design Sutton Green Golf Club near Woking in Surrey England, and she still plays social golf there with her brother and friends.
Fast forward playing wise and Laura is a winner of an amazing 87 tournaments to date Worldwide.
One of her proudest moments of her entire career came in 2014, in being made a Dame by The Queen.
In 2015 she was inducted into the World Golf Hall Of Fame in a ceremony at St Andrews, the home of golf, and is an honorary member there.
Ad LAURA IS AVAILABLE TO HOST CORPORATE GOLF EVENTS WORLDWIDE
CONTACT US for more information on booking her for your event
Get a personalised video message from Dame Laura via either Cameo or CelebVm

Dame Laura Davies uses the PHYSIOLAB S1 portable unit : "This product has helped me significantly with my recovery between events".
About Laura Davies - Laura Davies Biography - Laura Davies Personal Life - Laura Davies Golfer Biography - How Old Is Laura Davies